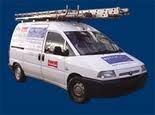 At present in the UK, both Analogue and Digital TV signals are being transmitted. This gives us the opportunity to receive both from the same aerial. In some cases a standard type aerial will receive Digital signal, but in the majority of cases Digital requires a specialist aerial. It is estimated by 2008 the analogue signals will be switched off leaving only Digital, making the choice of your new aerial very important.

We have large selection of aerials to suit all signal conditions and budgets and we only use benchmarked aerials and equipment. We hope our website will help you make the right choice.
TV Aerials
Our engineers have a wide range of aerials for Freeview digital and 4-5 channel analogue reception. The Vision Wideband is our basic aerial installation. This aerial, can either be affixed to existing fittings which is more economical as less parts are used, or can be installed fully. 
Freeview Channels
Freeview offers the following channels –
| | |
| --- | --- |
| Entertainment | BBC One, BBC Two, ITV 1, Channel 4 and five, ITV 2, ITV 3, ITV 4, BBC Three, Sky Three, BBC Four, E4, More4, Film4, UKTV History, Dave, Virgin 1 , Teachers TV, Community |
| News / Sport | BBC News 24, Sky News, Sky Sports News, BBC Parliament |
| Kids | CBBC, Cbeebies |
| Shopping | QVC, Bid TV , Price-drop TV , Ideal World |
| Music | The Hits, The Music Factory |
| Radio | BBC Radio 1, BBC Radio 2, BBC Radio 3 ,BBC Radio 4, BBC Radio 5 Live, BBC Radio 5 Live Sports Extra, BBC Radio 6, BBC 1Xtra, BBC Radio 7, TalkSport, BBC Asian Network, BBC World Service, Smash Hits, KISS, Kerrang, Smooth Radio (formerly Jazz FM), Virgin, The Hits, Q, Magic, Heat, Mojo, Clyde 1 & Premier Christian |
| Interactive / Info | BBCi, Teletext, FourText, (Games), Hits Extra |

For service and advice please call:
Aerials we offer include:
Contract Aerials
Contract aerials are built to a price and not to a specification; they are basic in build and poor in signal quality. They are ideal for portable TV sets or budget installations.
They are not recommended for digital or surround sound TV's
Vision Wideband Aerials
These are entry level Digital TV Aerials. These aerials perform well in good signal strength areas. They are basic in quality and are only fitted on light duty fittings. Slight picture brake up may occur with these aerials. Ideal for budget installations.

Super Gain and Anti Ghost Aerials
A good all round aerial with good digital signal and high build quality. They are both very robust and long lasting. Ideal for aerials with average to good signal condition. Recommended for all types of TV, perfect picture quality can be achieved.
Astral Digital 32 and 48 Hi Gain Digital Aerials
Hi Gain TV Aerials are designed for ultimate signal strength and quality. Both aerials are neat and compact in appearance and are highly recommended by all major TV manufacturers.
Radio. Hi-Fi, FM and DAB Aerials
Our engineers have a wide range of radio aerials for DAB and FM reception.  The DAB FM omni are our basic aerial installations. This aerial, can either be affixed to existing fittings which is more economical as less parts are used, or can be installed fully.
Aerials we offer include:
FM Omni Directional
This Aerial is ideal for all types of FM receptions, it receives signals from 360 degrees and has a medium gain.
FM Directional
Directional Fm for maximum signal strength.
DAB Digital Radio
This Aerial is specifically for digital radio.
If you require one of our engineer's to visit, on arrival they will outline your specific needs and discuss the existing installation.  They give recommendations based on this assessment and endeavour to offer 2 – 3 options to provide quality trouble free reception.